"Once you experience Activator Chiropractic, you'll never go back to regular chiropractic again."
Jon D. - St. Paul
Activator Methods® Chiropractic is the most comprehensive system of chiropractic analysis and treatment available today.
Its thorough assessment procedures and gentle treatment provide safe, fast and effective relief for patients of all ages.
Activator Methods® Chiropractic is perfect for:
First-time chiropractic patients

Patients who fear traditional manual adjustments

Pregnant moms-to-be

Infants and children

Adolescents and adults

Frail seniors

Athletes and dancers (recreational to elite, amateur and professional)
This specialized technique allows chiropractors to examine the patient's body from head-to-toe, segment-by-segment, in order to identify areas that need correction. 
The Activator Protocol uses a specific leg length analysis procedure to determine when, where, and when not to perform a chiropractic adjustment.
Using this sensitive indicator system, Dr. Freitag can pinpoint which areas of the spine and extremities are causing issues and immediately and gently correct them using the Activator Chiropractic Adjusting Instrument.
Dr. Freitag is Advanced Proficiency Rated by Activator Methods, this prestigious rating is granted to less than 1% of Minnesota chiropractors.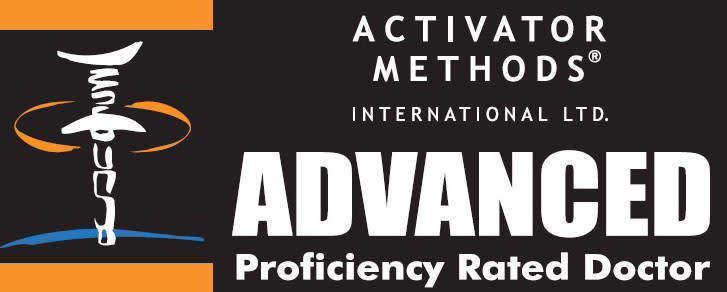 Many chiropractors have an Activator device in their office, HOWEVER, the Activator Protocol Assessment is much more than just the instrument.
The Activator Method, developed by chiropractors, Dr. Arlan Fuhr and Dr. Warren Lee has been researched, validated and updated for over 50 years.
The Method has been taught to thousands of chiropractors world wide.
The Activator Protocol's specific tests and adjustments have been validated, replicated and enhanced through trial and error millions of times.
The Activator Method is one of only a few textbooks ever published that covers the instruction of chiropractic techniqe.
The Activator Method is the only instrument-based method of chiropractic backed by 23 clinical research trials.
CLICK HERE TO GO TO THE ACTIVATOR WEBSITE
The Activator Protocol
The Protocol consists of a specific series of doctor performed pressure tests and active patient movements designed to isolate specific areas of the spine and extremities. 
After each challenge is performed, the resulting tension in the spinal and pelvic muscles is examined by a specific leg length analysis procedure. When areas that need correction are isolated, the resulting spinal and pelvic muscle tension produce a visible change in leg length.
While this procedure may seem unusual, the incredible results speak for themselves.
Dr. Freitag was skeptical when he was first introduced to the Activator Method.
However, after experienceing the technique as a patient and after completing his internships with Dr. Kathy Bloom, Activator Instructor and Clinical Advisory Board Member, he is now convinced that this technique is the most thorough and effective chiropractic technique available.
He is astounded every day by the specificity and accuracy of this procedure.
TRY ACTIVATOR FOR YOURSELF
There is no twisting, cracking or popping with the Activator device.
Dr. Freitag utilizes the Activator V 'Five' for all of his chiropractic treatments. The Five is the only cordless, electric, and FDA approved chiropractic adjusting instrument. 
This device provides a consistent, fast and precise impulse designed for ultimate patient comfort and clinical effectiveness.

Each impulse is more than 10X faster and requires 50-300% less force than a chiropractic adjustment delivered by hand.

We find that patients experience less post-treatment soreness than with manual adustments, and the treatments are as effective as, if not more than, those delivered by hand.